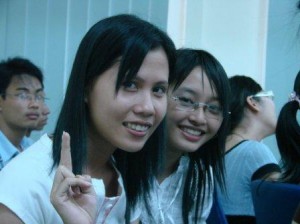 Attend services at any of Ho Chi Minh City's larger ECVN churches and, week by week, you're likely to witness a steady stream of people 'praying the prayer' to receive Jesus as their Saviour. Whether in regular services or special outreach events, altar calls are often made. Praise God that his church in Vietnam is so concerned for evangelism and is seeing fruit!
But while there is a visible, steady stream of people making commitments, there is also a less visible, but equally as steady, exodus. Only about one in ten of those who 'pray the prayer' actually make it to baptism. Many do not integrate into church life, but even those who attend regularly, even for some years, gradually slip away when trials or competing commitments come.
Though many believers have a deep love for God's word the only teaching style they know is one-way, lecture-style teaching in big groups, as happens throughout the Vietnamese education system. Respect for teachers means that people do not question what is taught and learning is done by memorizing. Bible study is treated in the same way, focusing on memorizing verses rather than understanding the meaning and applying it in their lives.
Because community is very important in Vietnamese culture small group discussion-style Bible study results in wonderful tight-knit fellowship and a deeper understanding and obedience to Christ. Small group Bible studies have developed amongst many younger people and through members of the ECVN who have a desire to learn more of God's word for themselves. And many house churches, by virtue of having to remain small and unnoticed, are able to create smaller communities of believers where members journey with Jesus together.
Pray
"Evangelism is important, but my burden is for teaching those who have already believed, helping them become established in the Bible."
Pray for those groups who are pioneering new ways of Bible teaching, allowing people to think about and apply the word of God.
Pray for more churches to embrace small group Bible study and for leaders committed to seeing individual lives growing in Christ.
Via rss feed from:: pray4vn.org