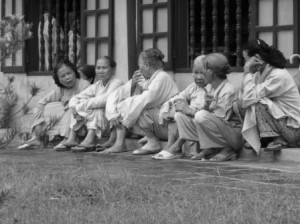 Buddhism was adopted as the state religion of Vietnam in the first century AD, and though many would now describe themselves as atheists 54% of Vietnamese still consider themselves buddhists and Buddhist thinking remains ingrained in the national mindset.
Yet Buddhism, as purely defined, is hard to find. Most Vietnamese people have a medley of beliefs including aspects of Buddhism, traditional Vietnamese religions and other Asian philosophies such as Taoism and Confucianism. They will call themselves Buddhists, but will not distinguish between ancestor worship and superstitious beliefs. Indeed the spirit world has become a source of fear in the lives of many.
Having said that, many Buddhist groups do make significant contributions to society, in particular to the poor and needy. Many old people's homes and orphanages are run by Buddhist groups, and one Buddhist group provides food for poor hospital patients throughout Ho Chi Minh City. Committed members of this group give up a month of their time to rise at 3am and cook throughout the day. These volunteers are often subsistence farmers from the rural areas, so their sacrifice and commitment is substantial.
Pray
Pray for the truth of Jesus to come to those who worship other gods.
Pray that the evangelical church in VN would be challenged by the response of Buddhist groups to the social needs in Vietnam.
Pray for Christians to find creative ways to reach Buddhists with the good news.
Via rss feed from:: pray4vn.org