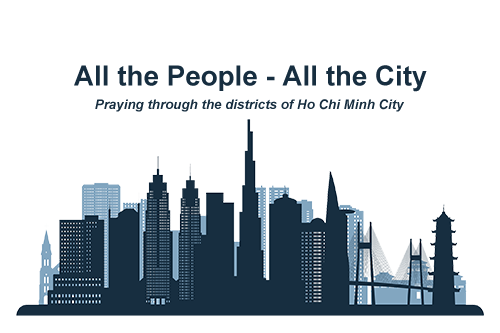 Phong* and his family live in the Binh Chanh District of Ho Chi Minh City where he and his wife work factory jobs. They've never been told the Gospel.
Chau* lives with her uncle in District 12 and commutes an hour every day to her college classes. She's heard of Jesus but thinks He is only for Westerners.
Thinh* is a businessman living in Thu Duc and feels an emptiness to his life but doesn't know about the love God has for him.
Phong, Chau, and Thinh's stories and others like them are repeated millions of times across this city. Stories of ignorance of the Gospel. Stories of misunderstanding the message of the Bible. Stories of hopelessness and searching for answers.
Join us in praying for All the People – All the City. Pray with insight to the 16 urban districts, 5 suburban districts and the sub-city of Thu Duc. Follow the links below to pray for each area.
First of all, then, I urge that supplications, prayers, intercessions, and thanksgivings be made for all people, for kings and all who are in high positions, that we may lead a peaceful and quiet life, godly and dignified in every way. This is good, and it is pleasing in the sight of God our Savior, who desires all people to be saved and to come to the knowledge of the truth. 1 Timothy 2:1-4
Click the button below to start praying with District 1 or use the links below to jump to a specific district and begin praying there.
---

Download the full pdf prayer guide of all 22 areas in a single file.
---
Ho Chi Minh City Districts