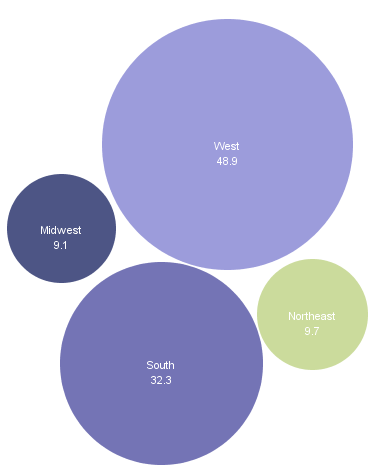 An interesting article here about the population of Vietnamese living in the United States based on the recent release of census data.  The graphic here represents the regional dispersion of Vietnamese within the U.S.  Two other statistics that jumped out at me:
•54% of those who identified Vietnamese Americans alone speak English "less than well.
This would seem to open many doors of ministry opportunities through ESL and other related programs of the church.
•Over 1.1 million Vietnamese Americans are foreign born–in other words, 1.1 million are first generation Vietnamese Americans.
This statistic seemed most surprising.  Slightly less than two-thirds of Vietnamese-Americans are first generation immigrants.  This would also seem to be a great avenue for showing the love of Christ in ministry to their needs.  A first generation immigrant would presumably have many strong connections back in their home still intact as well.  Through ministry to them in the States, many lives in Vietnam will likewise be touched.

Census Check: How's the Vietnamese American Population Doing? talk.onevietnam.org/census-check-h… via @onevietnam

— reachingvietnam (@reachingvn) April 1, 2012