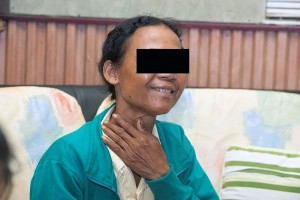 Nice brief piece here by Voice of the Martyrs about "Cam", the wife of an imprisoned Christian in Viet Nam.  From that article:
In her simplicity, Cam also knows that it's only God that has gotten her through many hard years. She can't read, but her favorite Bible stories are from the gospels. She likes the story of Jesus carrying the cross – because she loves the Christ who carries her burden with her.

She told me, "Even though I don't like having a husband in prison, I am faithful to the Lord. You have freedom [in your country], you should be faithful more."  If Cam can be faithful with little, shouldn't we be faithful with our plenty?
Persecution of many types can be found in Viet Nam which ranks now as #21 in the World Watch List of countries where Christians experience the most persecution.  Often among the minority peoples in Viet Nam, that persecution is overt and official, coming from local authorities.  In other areas the persecution is no less real or severe but may come from family, neighbors or employers.
Please join us in praying for Cam and her husband.  Praise and thank God for their faithfulness.  Pray that the Believers of Viet Nam will continue to be bold and faithful in the face of persecution and that God will be glorified as a result.