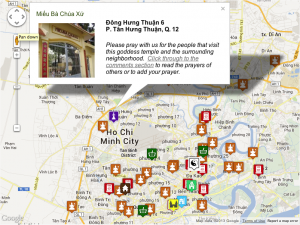 Take a virtual prayerwalk in Ho Chi Minh City through the spiritual map of that great city.
You can find the map here on our site at hcmcmap.reachingvietnam.com .
This city of 10 million people is covered in the darkness of worship being given to idols and altars – betraying our Creator God and robbing Him of the worship due His Name.  Join with us in praying for the people of Ho Chi Minh City by praying for those at more than 80 spiritual locations that have been mapped so far.
View the map site and see the prayers of others.  Then check out these step by step instructions for adding your prayers to those of others.