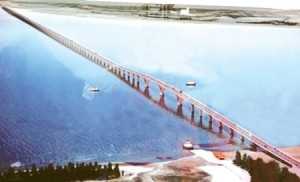 Vietnam news reports, Prime Minister Nguyen Tan Dung on Saturday gave the order to begin construction of the nation's longest bridge connecting Tan Vu and Cat Hai island in the northern port city of Hai Phong.
The bridge is expected to be finished by 2017 and will span a total length of 15.6km, linking developing areas in Hai Phong's Dinh Vu industrial park with the Ha Noi–Hai Phong Highway, which is also under construction.  Read the full Vietnam New article here.
Bridges such as this one are important.  It will no doubt bring a significant boost to the economic development of these islands and Hai Phong city.  We often also talk of bridges in sharing the Gospel.  In this sense a "bridge" is how we guide or transition a conversation to the main message of salvation through faith in Jesus Christ alone.  The key in such Gospel bridges however is to not invest too heavily in the bridge or take too long with it because ultimately our purpose is not the bridge but the Gospel message.  If our bridges are too elaborate they also run the risk of becoming 'clever speech' making 'the cross of Christ void' (1 Cor 1:17).  So our goal is not long bridges but short bridges – not fancy (clever) but practical and basic.
We highly recommend the book, Any 3 which deals much with this concept of quickly bridging to the Gospel.  In the book, a five point progression is promoted being – –
Get Connected
Get to a God Conversation
Get to Lostness
Get to the Gospel
Get to a Decision
Relying on the example of Jesus talking with the Woman at the well in John 4:1-42, Any 3 gives this description of Jesus "Getting to a God Conversation":
Once Jesus had connected with the Samaritan woman, he quickly transitioned to spiritual matters. Jesus' short bridge is impressive. The conversation centered on a common need, and then quickly bridged into a discussion about the Living Water.
The task of reaching the lost among the people of Viet Nam is an urgent one.  With a scant 2% of the population having a personal faith relationship with Jesus Christ we must do more.
Pray with us for more Believers in Viet Nam to quickly transition their conversations to spiritual matters leading their family, friends, neighbors, co-workers and everyone they meet to the Good News of Jesus Christ!  Pray for a Kingdom Movement in Viet Nam multiplying the Gospel, Believers, Disciples and Churches!