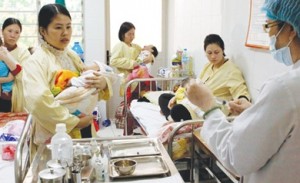 As reported by the Viet Nam News (full article here):
According to the National Institute of Hygiene and Epidemiology and the Pasteur Institute in HCM City, over 620 cases were reported showing signs of measles from the beginning of 2014 to February 5.

Of the number, 30 cases were recorded in Ha Noi, 138 in HCM City, 120 in Lao Cai province and 80 in Son La province. Yen Bai province recorded 253 measles patients and one death.

Most of the patients have not been fully vaccinated against measles.
Please join us in praying for the children and families affected by measles.  Pray for their healing and that they will know God's provision for them.  Pray for increased healthcare and sufficient vaccinations throughout Viet Nam.