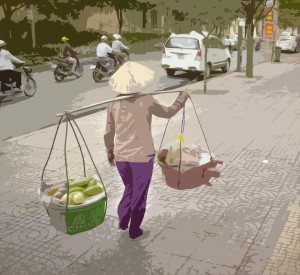 While Viet Nam celebrates their own Women's Day on October 20, today is celebrated as well as the International Women's Day.  Seems like a great time to stop and pray for the women of Viet Nam.
Please join me in praying:
–Pray for God's Holy Spirit to fall on the women of Viet Nam drawing them to Himself through faith in Jesus Christ.
–Please pray for women Believers in Viet Nam to actively reach out with the Gospel to the other women around them.
–Join in praying for strength for many faithful women within the churches of Viet Nam.  They are a great testimony to others.  Pray that they will grow in their relationship with Jesus Christ.
–Pray for God to ease the suffering and hardship of women in Viet Nam.  Pray for escape from abuse and exploitation.  Pray for women to be valued in society.
–Pray for Linh* and her friends – all young ladies to follow Christ in obedience now that they have made an initial faith decision.  Pray that these ladies would be baptized and begin growing in discipleship.
Some of the strongest Believers in Viet Nam are women.  I give thanks to God for the wonderful testimony they give to Him and His grace in their lives.  It's obvious that over recent years the status of women in Viet Nam has risen considerably.  Improvements in work opportunities, land and property ownership and power overall have all been seen.  Still more is needed.  Income equality still falls short as does the status and value of women in society.  A recent article by Vietnam News highlighted the report by the U.N. on human rights progress and was generally positive.  That report cited some of the areas needing additional attention including that of domestic violence against women:
However, we do see a high increase in domestic violence against women. From the recent study, it seems that almost six out of 10 married women are subjected to domestic violence, so this is quite serious.  U.N. UPR Report
Join us in praying for those suffering from such abuse as well as those exploited as highlighted in our post earlier this week, Exploited in Asia.  Pray for the women of Viet Nam.