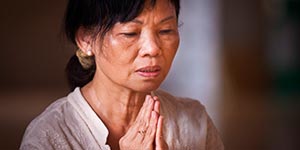 Day 15 of 31 Days of Prayer for Viet Nam
Christians not only face persecution from the government in Vietnam, but they also meet resistance at home.  When Tan* became a Christian, he stopped following the traditional ritual of worshipping his ancestors.  His family distanced themselves from Tan because he was rejected by the community and faced opposition from the authorities.  Finally, under unrelenting pressure from the local authorities, Tan's family kicked him out.  Tan and his wife were left alone with no job and no way to support themselves.
Pray for God to strengthen Christians like Tan who face persecution from their families.
Pray for families to see the hope and joy that a relationship with Christ brings and to desire to know Jesus too.