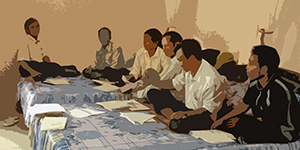 Day 28 of 31 Days of Prayer for Viet Nam
Many Vietnamese Christians begin facing persecution within 24 hours of believing in Christ.  For this reason, church leaders spend time teaching new believers how to withstand persecution.  Through trainings, new believers know that persecution is a reality and they can only stand firm if they faithfully spend time with God in His Word and prayer.  Persecution is not treated as an extraordinary phenomenon, but rather as a normal part of every Christian's life.
Pray for new believers to stand firm in their faith as they begin facing persecution.
Pray for more believers to receive training on handling persecution and to have a supportive Christian community.