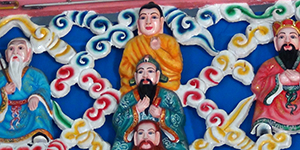 Day 10 of 31 Days of Prayer for Viet Nam
Common to Vietnamese religious life is the mixing of multiple religions or belief systems into one religion. This practice is often called syncretism.  Syncretism is especially prevalent in Buddhism, Confucianism, and Taoism, which are considered to be "three religions from the same source" to many Vietnamese people.  Along with these three, Vietnamese combine other gods and idols into their personal beliefs and religious practices.
Pray for Vietnamese to emerge from the confusion of combining many religions and understand that there is no other name by which they will be saved except Jesus.
Pray for Christians in Vietnam to boldly proclaim the gospel and the exclusive nature of Jesus as Lord.