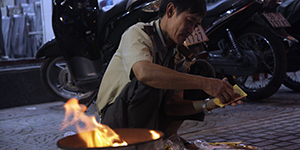 Day 17 of 31 Days of Prayer for Viet Nam
Throughout Vietnam, the fear and worship of spirits grips the hearts of many. Mirrors or strips of cloth above doorways ward off evil spirits.  Sacrifices and rituals invite the spirits of trees, houses, harvests, etc., to bless the people.  This is called animism, or the belief that spirits occupy everything from animals to nature to manmade objects.  It is an old practice in Vietnam that keeps many people in bondage.
Pray that the people of Vietnam would choose a life without fear by placing their faith in Jesus.
Pray that Vietnamese Christians would share their testimonies of being set free from fear and bondage through a relationship with God.