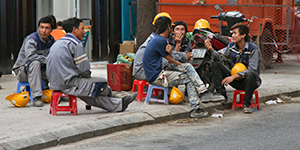 Day 16 of 31 Days of Prayer for Viet Nam
For many people, living in large cities is a necessary inconvenience.  Factory workers often live and work in large cities in Vietnam without their families, who stay behind in their villages.  Workers spend long hours for a paycheck that they send back to provide for parents, spouses, or children.  For many workers, the only opportunity to return home to visit family is during the lunar new year festival once a year.  There are hundreds of thousands of Vietnamese in the export labor force working in factories overseas.
Pray for factory workers in cities to find true hope in life through Jesus Christ, and for churches to be started among them that can multiply to their home villages.
Pray for returning export workers who have become believers while working in factories overseas to be able to overcome persecution from family and local authorities and to stand firm in their faith and boldly serve God.