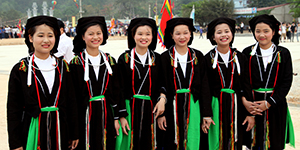 Day 23 of 31 Days of Prayer for Viet Nam
The 146,000 San Diu people living in the northern part of Vietnam are unreached.  They worship their ancestors and are also animists who worship a myriad of deities and spirits, holding annual rituals to pray for abundant blessings over their planting and harvesting.  The San Diu have rich traditional folksongs and possess a unique treasury of stories in verses.  God's Word promises that people from every tribe, nation, and language will worship around his throne in heaven.
Pray that the San Diu can have God's Word in their language.
Pray for the small number of San Diu believers to grow in their faith and in their vision to reach their people, so that many San Diu can hear the gospel and be drawn to follow God.