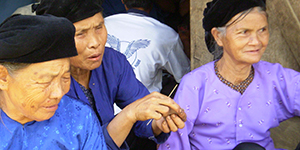 Day 29 of 31 Days of Prayer for Viet Nam
The Tay are the largest ethnic minority people group in Vietnam, with a population of more than 2,000,000. But with only a few dozen believers, they are among the most unreached. The Tay have a deep fear of the spirits of their dead ancestors, and they believe that these spirits can come back to harm or bless them.  They also visit the local shaman in times of sickness or bad luck.  The Tay greatly value relationships and aim at living in harmony.
Pray that God would raise up more laborers to widely spread the gospel seed among the Tay.  Also pray that Tay believers would hunger for God's Word and would grow in their faith, and that they would reach out to their own people with the gospel.  Ask that the Holy Spirit would prepare the hearts of the Tay people to receive Jesus, and that God would reveal Himself to them.