Every. 10. minutes. every. day.  The math is not complicated, the result is tragic.  When you look at Ho Chi Minh City (Saigon) and see the mass of humanity that makes up this growing, vibrant city – it can be overwhelming.  Some 10 million people live in this total metropolitan area.  Will you set aside time, this October 10th to pray with us for the lost of Ho Chi Minh City?
You can download a simple pdf prayer guide of "The 10 Faces of Ho Chi Minh City" here.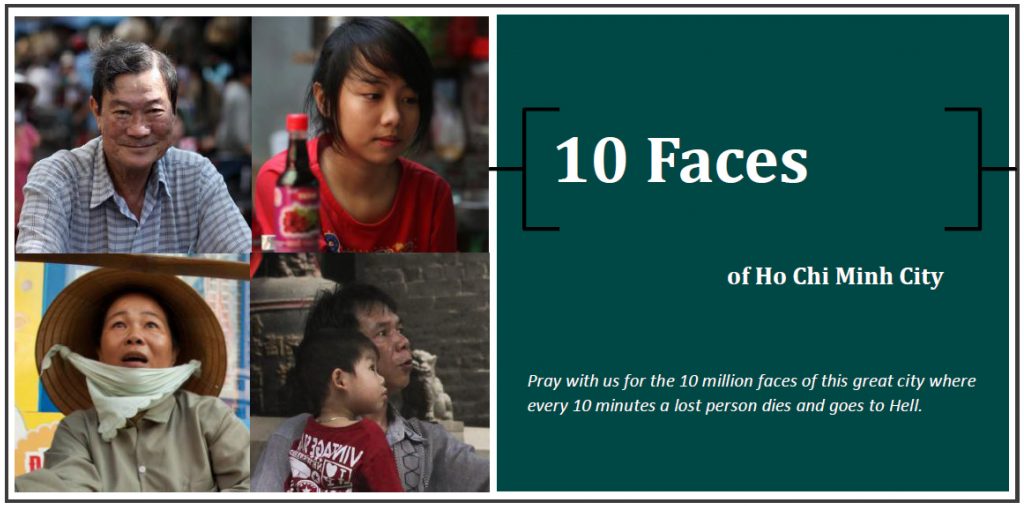 Or for additional resources click here.
The total metropolitan area of Ho Chi Minh City has a population of 10 million.  On average in the city as in all of Viet Nam, less than 10% of that population has a relationship with God through faith in Jesus Christ.  When you calculate those numbers together with the average annual mortality rate for Viet Nam (about 6 deaths per 1,000 persons in the population) you can start to get a clear picture.
10,000,000 population x .006 = 60,000 deaths in the city on average annually
60,000 people x 0.98 (percentage of non-Believers) = 58,800 lost people die in the city annually
58,800 / 365 = 161 lost people die in Ho Chi Minh City daily
161 / 24 = 6-7 lost people die in the city every hour or roughly 1 person in Ho Chi Minh City every 10 minutes enters into a Christ-less eternity.
10 million people.  Every 10 minutes.  Pray with us this 10/10 that God will turn these numbers around, pouring His Spirit out on this city and drawing millions into a relationship with Jesus Christ!