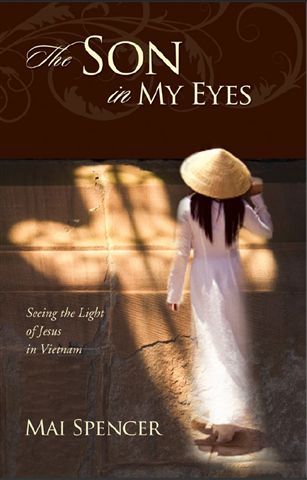 The Son in My Eyes: Seeing the Light of Jesus in Vietnam is a wonderful, heartwarming story of God's grace and providence.  Reading this testimony will be a blessing to you.  The story chronicles the life and ministry of Mai Spencer through the tragedies of her childhood and young adulthood in Vietnam, and more personal tragedies after moving to the U.S.  But the climax of her step of faith in coming to Christ and the mission that God called her and her husband Dennis to – is a true victory.
You can learn more about Mai and Dennis Spencer and the ministry of the church in Binh Chau on their website, www.jesusinvietnam.com.  A video trailer about the book and an excerpt from that website are pasted in below.  I highly recomend this for anyone interested in seeing the peoples of Vietnam reached for Jesus Christ!
You can purchase a kindle version of The Son in My Eyes from Amazon.  You can also purchase an autographed print version of the book directly from Jesus in Vietnam Ministries.
From Jesus in Vietnam Ministries:
Mai Spencer, a poor Buddhist girl born and raised in Vietnam, experienced war in her homeland and witnessed the havoc it wreaked on her family and country, and nearly lost her life after being exposed to Agent Orange. In spite of all the heartache, there was a bright spot in the Vietnam War—she fell in love with an American soldier.
After they married and moved to America, Mai found a sense of security in her new husband and life but just when Mai thought her broken heart was beginning to mend, another series of tragedies hit and left Mai with grieving soul and a deep longing. In desperation, she turned from the false god of her childhood and cried out to Jesus. A miraculous transformation took place—Mai became a woman of destiny, called to return to Vietnam and build a church.
An amazing testimony of tragedy and loss, forgiveness and triumph—this story speaks to broken-hearted and brings hope to the hopeless.