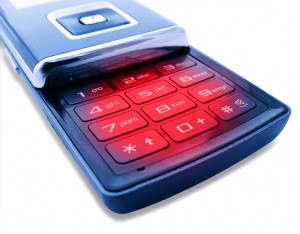 Dung* had seen many cell phones before, many people in the large town nearby had them and often someone visiting his village would have one as well.  But only one family in his village actually owned a cell phone themselves.  It was the family of his friend Phong.  When Phong's cell phone rang with an incoming call that day, Dung had no idea that it was a call that would change his life.  The caller on the other end was from a member of a family that had left their village many years previous and eventually had made it to another country overseas.  After Phong talked with the caller for some time, he handed the phone to Dung saying, "Here you talk to him.  What he is saying is nonsense!"
Dung took the phone somewhat apprehensively but still eager to have the chance to talk with someone on the phone, especially someone living in another part of the world.  As he listened to the man on the other end of the line and heard the story of how he had accepted Jesus Christ as his Lord and Savior, Dung found something so compelling that he knew he must also accept this gift of life from God.  As soon as Dung made his commitment to Christ, he went in search of a Bible and other Christians to learn from.
The impact of Dung's decision for Christ however has been mixed with the joy and peace that God gives as well as the opposition and persecution sent from Satan.  Dung's family did not believe and began to shun him for his departure from traditional activities related to ancestor worship.  As word in the small village spread about Dung's conversion, the local authorities came and arrested Dung.  They beat him and kept him locked up for several days telling him that he must renounce his faith.  Even with little discipleship however, Dung knew he could not forsake the gift God had given him.  After another Christian came to complain to the police, Dung was let free.
Since his conversion, Dung has married but when he went to obtain permission to build a house on the land allocated to him from his family, the police would not issue a permit.  Land use in Vietnam is a common point of control, especially by local authorities and they told him that he could not build a house on the land because he was a Christian.  While still not agreeing with Dung's decision, his family has reconciled with him some and helped him to build a small house on another piece of the family's property.
As Dung has shared the Gospel throughout his village he has seen some others now come to Christ and their is a growing group of Believers there now.  Dung himself has known that he must continue to grow in Christ and takes advantage of every opportunity he can to learn more about how to serve God.  He has taken part in recent OBD trainings and has himself gone to other villages to share where he has seen several come to Christ and a new church started.
Dung is another example of those exercising their faith to see the Vietnamese people reached with the Good News of Jesus Christ that we spoke of in the earlier post entitled, "Always trust your . . . ."  Please join us in praying for Dung in this way:
Pray for protection from those who would oppose the Gospel.  Persecution and opposition often comes both from authorities and family.  Pray that Dung would be emboldened by the opposition and to daily trust in God's providence.  Pray that Dung will listen clearly to the Holy Spirit to know how to respond when opposed.
Pray that more of Dung's family would trust in Christ.  Pray that Dung would be such a great testimony to all of his family that they will also know they must follow Jesus.
Pray for Dung to continue to grow in his discipleship and service to God.  Pray that God will continue to shape Dung as a leader and servant to the other Believers around him.  Pray that Dung will continue to see fruit from his efforts in sharing the Gospel and discipling new Believers.  Pray that many generations of churches will be started and multiply through Dung's faithfulness.
*As standard practice on reachingvietnam.com, names are changed for the sake of security.