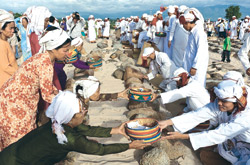 The Cham peoples of Vietnam are part of the remnants of the former Champa kingdom found throughout Southeast Asia.  Differing reports of this group show their population in Vietnam as between 100,000 and 160,000.  The Joshua Project lists two distinct groups, the Western Cham who live predominately in the Mekong Delta area and the Eastern Cham which are centered more in the southeastern coastal areas of Vietnam.  Both Western and Eastern Cham may also be found in significant numbers in Ho Chi Minh City (Saigon).
There are a majority of Muslims among the Western Cham with close affinity to the large number of Cham in neighboring Cambodia.  The Western Cham follow a fairly orthodox version of Islam.  More than fifteen mosques can be found in Ho Chi Minh City with several Vietnamese Imams.  An article from muslimvillage.com here shares more perspective of the isolation many of them feel in Vietnamese society.
The Eastern Cham however are much more syncretistic in the practice of Islam as mentioned in this article from the East-West Center:
For the Cham in Central Vietnam, especially in the province of Ninh Thuan, the Cham have localized Islamic ideas and practices in a highly unique way. The Cham have absorbed features of Islam and this became the basis of identity of a group called the Cham Bani.  The Cham Bani practice a syncretic form of Islam and worship Po Alwah (Allah) in the mosque which they call Thang Muki. They do not eat pork and bury their dead. They are led by a religious head called Halau Tamunay Awar. The Cham Bani call Ramadan 'Ramuwan,' which takes place around the same time as Ramadan. Three days before the first day of Ramadan, the Cham Bani engage in ceremonies and visit ancestral graves.
"Among the solemn rituals, the nao ghur is the most important and involves people paying their respects to dead relatives by praying and carefully cleaning their graves. The Cham Bani people believe that this ritual is a type of pilgrimage to their ancestors." (from the Vietnam News)  Such ancestor veneration is evidence of the high level of syncretism among the Cham Bani borrowing practices more common among the Vietnamese.
Please pray with us today and throughout this month of Ramadan and Ramuwan that God will bless both the Western and Eastern Cham peoples in Vietnam.  Pray that during this month when they are particularly turning their hearts in a search for God and a search for salvation that God will speak to them through dreams, and through the direct witness of Christians they might now.  Pray that during this month many Cham people will come to know Jesus Christ as their Lord and Savior.  Pray that the small number of Believers among the Cham people will be faithful and bold in sharing this month that many of their family and friends in the Cham comunity will hear about Christ.