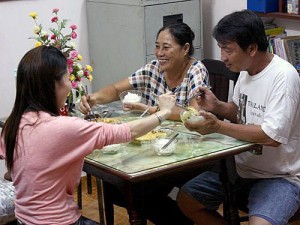 A recent article from VietNam Net Bridge reported that the Vietnamese spend the largest proportion of their income on food.  That article stated:  "The increasingly high proportion of monthly income spent on food shows that the living standard of Vietnamese people has been decreasing. The overly high inflation rate in Vietnam has been described as a heavy tax imposed on people."
The majority of the population in Vietnam is under 35 years of age and as such has grown up in an environment absent the fighting and extreme hardships and uncertainties of previous decades.  Their outlook tends to be very positive but the difficult economic times still takes a toll.  The growing consumerism among the Vietnamese has its negative impact on their receptivity to the Gospel.
"Right now, I have to concentrate on getting the best job possible and making money." remarked Than*, after we shared the Gospel with him.  "What you say sounds very good and I will try to follow God when I am older and have all the money that my family and I need."
Please pray with us that Than and the peoples of Vietnam will not place their faith in bread but in the Bread of Life.  Pray that they will see the truth that until our relationship is right with God, nothing else matters.
But seek first the kingdom of God and His righteousness, and all these things will be provided for you.  Matthew 6:33
*As standard practice on reachingvietnam.com, names are changed for the sake of security.