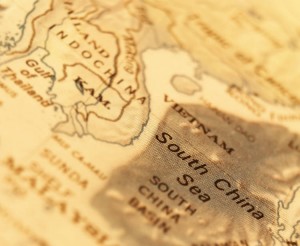 When Ivy* told her parents that she was going to move to Vietnam for a year, they were not greatly surprised.  As a family they recognized the call of God to share the Gospel with the nations.  That support from family has been a blessing and encouragement to Ivy as she serves.  Still, living out her calling in VN is not always easy.  When she first arrived it was with a work contract and the support of a company in providing housing and assistance in navigating the new culture and language.  Throughout that first year however, Ivy often found herself frustrated at her lack of time to engage in direct ministry.  She wanted to do more to share the love of Christ with the many lost around her.
Still, in that first year Ivy had made some great relationships and seen God starting to work through those relationships.  So when her contract ended and she headed home, she knew she would be back.  She just didn't know how.  God had already prepared for that however.  Upon her return home Ivy found that her church family had received a love offering on her behalf to help her settle back in after her year away.  When they learned that instead Ivy was planning to return to Vietnam, they were happy for her to apply those monies to her airline ticket.
"When I arrived back in Vietnam the second time it was much different.  I had no work contract yet and no company to meet me at the airport.  In fact when I landed, I didn't even know where I would spend the first night much less the next month.  Still I knew that God would guide me and provide not only a place to live but also a focus to my ministry.  I knew that I would find the place that God wanted to show me."
Since returning to Vietnam, Ivy's new work has been much less time-consuming, allowing her to spend focused time in ministry.  She has been able to concentrate on learning more Vietnamese and also on sharing the Gospel among the sub-group of the population with whom she works.  Now there are new Believers among her friendships and she is helping them to be discipled and grow in Christ.
We truly thank God for Ivy as yet another testimony of faith in reaching the peoples in Vietnam like we spoke of in the earlier post entitled, "Always trust your . . . ."  Please join us in praying for Ivy in this way:
Pray for Ivy to have a more permanent place to live.  Her current housing is temporary and she would like to find a place with a bit more privacy, low cost and near to where she has her ministry focus.
Pray for Ivy to have clear discernment from God as to how to best provide for her normal living expenses while still having a maximum of ministry time.  Her current work allows for a great deal of ministry time but her income is extremely low.  She is praying about the possibility of moving to completely full time ministry and to ask for support of other Believers as one option.  If God does not lead her in that direction then she needs to find work that will provide more income than her current work.
Pray for a new Believer, Bell*, who Ivy and others have been providing discipleship.  Pray for Bell's growth and faithfulness in sharing the Gospel.
Pray for a Bible study group that Ivy has been helping to lead.  This group is in need of finding a new location to meet.  Pray also for many who attend this group regularly but have not yet made a decision for Christ.  Pray that God will work in their hearts to overcome any and all misgivings that they might place their trust in Jesus Christ alone.
*As standard practice on reachingvietnam.com, names are changed for the sake of security.