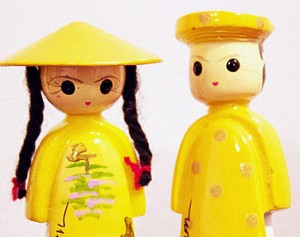 "My Dad moved out of our house and is living with his mistress." said Hai* rather matter-of-factly.  My friend had dropped out of school a couple of months ago, has been unable to keep a steady job, and now this.  It was painful for me to hear but nothing like I knew it must be for him to experience.  Hai has taken some wonderful steps toward God, confessing Christ as Lord just within recent months.  That decision in itself came as a miraculous work from God.  Even though Hai has some extended family members who are Believers, his immediate family are not.  Life at home was already pretty difficult with numerous dysfunctions.  I pray for Hai with great expectation as it seems the spiritual battle for his growth as a new Believer just greatly intensified.
Common Practice
Unfortunately, the extra-marital relationship of Hai's father is an all too common reality.  It is one of Satan's most pervasive tactics in Viet Nam.  A 2009 study by the Southeast Conference of the Association for Asian Studies cite statistics that 70% of Vietnamese husbands were reportedly engaged in extra-marital relationships and 92% of those they interviewed reported knowing someone who had been in an extra-marital affair.  That study outlines a number of types of common extra-marital relationships in Viet Nam from that of casual relationships with "bar-girls" to that of seeking prostitutes to having a regular mistress or even setting up a household with a "second-wife".  One of the foundational problems here is that traditionally such activities are not seen as wrong and in many regards are valued by the culture.  The SCAAS study states:
In most of their forms, extramarital activities by Vietnamese men are not perceived as infidelity or adultery. Extramarital relationships often facilitate male bonding and are important signifiers of Vietnamese masculinity and male privilege.
Clearly this is a practice that has continued to be supported by the popular culture.  There are some signs of change but very slow and limited.  Modernization and the development of women's roles outside of the home is shifting some power away from the men and lowering the acceptance of extra-marital affairs by men.  The government of Viet Nam has also named this year, the "Year of the Family" (last year was the year of Road Safety).  We have not seen any mention of the "Year of the Family" having any emphasis on couples staying true to their marriage however, opting instead to look for environmentally friendly families to honor.
Little Cost
A story this past week from VietNam News did report that the Ministry of Justice is proposing to double the fine for husbands or wives caught in adultery.  A revision to the law and the fine set twelve years ago.  If the new law and fine go into effect (expected to be in July) the fine for a spouse caught in an extra-marital affair will be approximately – – – USD $48.  It's hard to view that as any disincentive to extra-marital affairs.  Interestingly, another story this past week reported on changes to the fine for school teachers caught teaching "extra-courses" (moonlighting to earn extra money) has been raised to as much as USD $950.  The cost of infidelity in education roughly twenty times that of infidelity in marriage.
Sin Issue
Modernization, thematic promotions and criminal fines of course will only have a limited impact.  Adultery is a sin issue.  And since at least 98% of the population of Viet Nam does not have a saving relationship with God through faith in Jesus Christ the pain and hopelessness of sin saturates this country.  People who don't know God are going to live life like they don't know God.
For this is God's will, your sanctification: that you abstain from sexual immorality, so that each of you knows how to possess his own vessel in sanctification and honor, not with lustful desires, like the Gentiles who don't know God.  1 Thessalonians 4:3-5 (HCSB)
The answer to the issue is clear – it's Jesus Christ.  And so 'we proclaim Him' (Col 1:28).  We do everything we can to spread the Good News of Jesus Christ throughout this country of more than 85 million lost souls.  We continue to pour into Hai and others like him so that he firms up his decision for Christ and becomes an obedient disciple teaching others to follow Christ as Christ has taught him.  Will you pray with us to that end?
Please pray for Hai specifically.  Pray that he will continue his growth in following Christ.  Pray that Hai will share the Gospel boldly not only with his friends but also his mother and father.  Pray also that Hai might find a steady job.
Please pray for the millions of families in Viet Nam being destroyed by infidelity.  Pray that God would break through the barriers of self-living that those families might find their healing and wholeness in Jesus Christ.
Please pray that God will raise up more laborers for the harvest field of Viet Nam – from within the peoples of Viet Nam directly or from anywhere in the world.  Pray that Believers within Viet Nam would boldly proclaim the Gospel of hope and salvation found in Jesus Christ.
*As standard practice on reachingvietnam.com, names are changed for the sake of security.