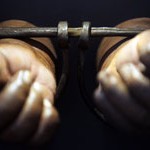 They might have been talking about the previous day's soccer match, or the weather, or this year's planting. But they weren't. Under a shade tree shielded from the afternoon sun, at first glance the circle of young men appeared much like any other group their age. Crouched down in a resting position, they bantered and laughed, joked and encouraged. Each of them are first generation Believers in their family and each in turn lead a church, most that meet in their own homes. Around the circle they shared stories one by one.
"The last time they took me in, they held me for three days. They cursed at me and spit on me. They told me if I didn't agree to stop having church they wouldn't let me go. I wouldn't agree and eventually they just hit me and told me to leave. I thank God that He gave me the strength to not give up."

"They chained me to a wall with my hands over my head. They told me I had to stay standing up on my toes. If they caught me standing with my feet flat they would kick me in the stomach. One of them had something that would shock me with electricity, it really hurt. I thought of the pain that Jesus went through for me."

"We were meeting and studying the Bible when they broke into my house. They started hitting the Brothers and Sisters and we all had to run out. They didn't want to chase us I guess so we waited until they left and gathered back together and prayed."

"Because we meet in my home for our times of worship we decided to put a wooden cross above my door. The police came and told us it was illegal and that we must take it down but we refused. Next they sent criminals to force me to take down the cross but I told them if they wanted it down they must take it down themselves. Then they got mad but they were afraid something bad would happen to them if they took down the cross. They believe it has power. So they dragged me from my house and beat me in the woods and left me to die. We will never take down that cross."
There was no element of false bravado, no cavalier attitude, just a matter-of-fact telling of their testimony. The pain and hurt they experienced was genuine but they spoke of it without complaint. They are the persecuted of Viet Nam and they view such persecution as normal. Throughout the country, persecution and opposition to Christianity can take many forms.
The central government of Viet Nam from Hanoi ostensibly provides for freedom of religion but with many restrictions. Even openly recognized churches are strictly monitored and required to maintain the majority of their religious practice within the four walls of their church facilities.
The process to have a new "religious meeting" legally recognized is quite complicated and to actually receive approval for a new church may take as much as 20 years. Even with legal status, the U.N. Human Rights Commission which assessed the freedom of religion in Viet Nam in 2014 states, "The Special Rapporteur would also like to underline that official registration status with the Government is no guarantee that freedom of religion or belief is fully respected." (View full document here.)
The most significant and often violent persecution such as that highlighted from the quotes from the young leaders above often comes from local authorities. It is difficult to gauge how much of these activities from local authorities is encouraged, allowed or ignored by the central government. Rural areas and Believers from among minority groups are most impacted in this way where local authorities may send non-official "thugs" to carry out intimidation, disrupt church services or even demolish houses where churches meet.
Persecution from those of other beliefs is strong. Villages often worship idols and spirits who they believe are specifically tied to the health and well-being of the village. For anyone in the village to depart from such worship is seen as a threat to the village itself. In urban areas landlords may evict tenants upon learning they have become a Christian, employers will fire an employee for the same reason.
The opposition from family is perhaps the most heart-wrenching. "You have betrayed your Grandfather and Grandmother!" is the common response upon hearing a family member has accepted Jesus Christ as Lord and Savior. An almost exclusive following of ancestor worship demands successive adherence. Such Believers are often thrown out of their home by family, viewed as having died themselves.
They are the persecuted. Our Brothers and Sisters in Christ of Viet Nam. With faithfulness to God and bold proclamation of the Gospel they continue on confident in the promises of Scripture that with belief comes persecution. With them, we pray:
Thanking God for the blessings promised to the persecuted. Matthew 5:10-12
Pray for shrewdness in their actions and bold witness to the authorities. Pray for dependence in the Spirit in what to say at all times. Matthew 10:16-20
Pray for faith and strength as they face persecution from parents, brothers, sisters and children. Luke 21:16-19
Pray for the Believers of Viet Nam to remain 'not of this world' and that they weather the hatred of others with the grace of God. John 15:18-19
Pray that they would not stop speaking of what they have seen and heard in Christ. Acts 4:19-20