If we are going to take a trip, how about some friends to travel along with us?  Share the information about Rachel's Journey with others.  Share the information in this post directly or download and print flyers below.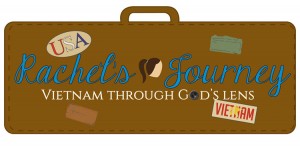 Join us for an awesome journey. Rachel's journey. Rachel is a young college student with two great loves, missions and photography. This fall she's taking a trip throughout Viet Nam taking pictures and meeting people. Along the way she's sharing what she sees and learns with us. You can follow Rachel on her journey through a variety of means:
¨ Click through to the reachingvietnam.com web portal or this shortcut link: bit.ly/rachelsjourney where 1-2 times per week a photo gallery will be published and weekly prayer requests that relate to the places Rachel travels.
¨ Sign-up for a weekly email newsletter giving a recap of Rachel's journey for each week. You can sign up on reachingvietnam.com.
¨ Follow one or more social media channels:

It's been forty years since the close of the Vietnam War. What's it like today? How can we pray and reach the people there with the Gospel? Join us on a virtual journey and find out through Rachel's photos and writing.
Download and print pdf flyers to promote Rachel's Journey here.  Both formats have two flyers per letter size page.
Long format (cut down the middle resulting in flyers of 4.25″ x 11″)
Short format (cut down the middle resulting in flyers of 5.5″ x 8.5″)